Kapalua Resort Participating Restaurants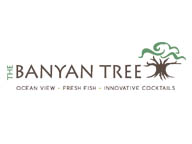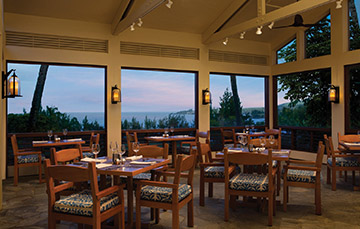 The Banyan Tree
Highlighting locally sourced ingredients, including those from the hotel's abundant organic garden. Hawaii's freshest fish, meat and produce are prepared with simplicity for the perfect flavor balance.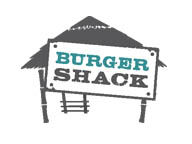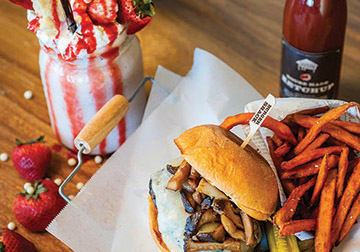 Burger Shack
Burger Shack is a casual, oceanfront hideaway where guests can savor signature burgers, whimsical shakes and a selection of featured cocktails, craft and local beer. This alfresco dining venue is the ideal spot to enjoy a meal or simply cocktails with friends and loved ones, while contemplating the waves, surfers and sometimes the whales.  These delicious bites can be enjoyed at the restaurant under a natural canopy of more than 40 fully-grown coconut palms or can be packaged in a beach-friendly to-go kit.
Open daily from 11:00a.m. – 4:30p.m.
Phone: (808) 268-6061
One Ritz-Carlton Drive, Lahaina, HI 96761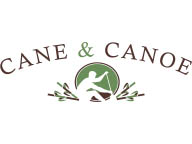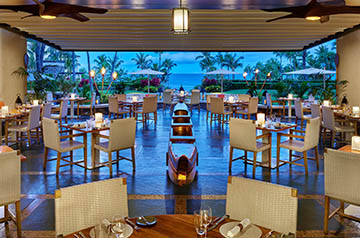 Cane & Canoe
With mesmerizing Kapalua Bay as its backdrop, Cane & Canoe offers its guests a window into the Hawaiian soul – both past and present. Here, in this historically rich locale, locals and travelers come together, savoring creative, modern cuisine that celebrates Hawaii's diverse cultural influences while showcasing its freshest, locally sourced ingredients.
Restaurant Hours: Breakfast | 7:00am-12:00pm
Sunday Brunch | 10:00am-1:00pm – Bloody Mary Bar & Live Jazz Music
Dinner | 5:00pm-9:00pm
Nightly Entertainment | 6:00pm-9:00pm
Bar Hours: Daily | 4:30pm-10:30pm, Happy Hour | 8:00pm-11:00pm
Phone: (808) 662-6681
One Bay Drive, Lahaina, HI 96761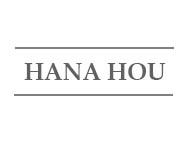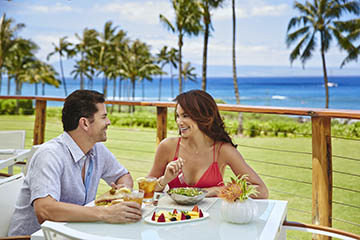 Hana Hou Bar
Located poolside, this intimate Maui bar features prime views of Lanai and Molokai while enjoying Hawaiian fare and sipping creative beverage selections. Our bartenders are well-versed of the history of the resort and the island. With the best view on Kapalua, stay, talk story and leave knowing more about Maui than ever before.
Lunch: 11 a.m. – 5 p.m.
Phone: (808) 662-6600
One Bay Drive, Lahaina, HI 96761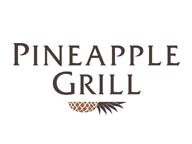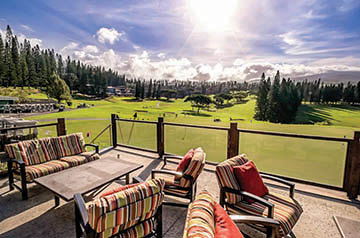 Pineapple Grill
You are invited to take a culinary adventure at the spirit Aloha at Pineapple Grill. Located at the Kapalua's famed Bay Course, just steps away from the luxurious resorts of Kapalua, The Pineapple Grill is the perfect dining destination for your romantic dinner, evening with the family, special celebration.
Breakfast: 8:00am – 11:00am (Monday – Friday), 8:30am – 12:00pm (Saturday & Sunday)
*Grab & Go – Available beginning at 7:00AM
All Day Menu: 11:00am – 9:00pm (Monday – Friday), 12:00pm – 9:00pm (Saturday & Sunday) Happy Hour: Daily 3:00pm – 6:00pm
Phone: (808) 669-9600
200 Kapalua Drive, Lahaina, HI 96761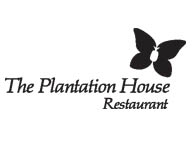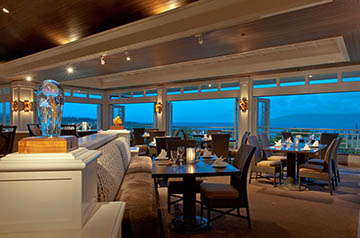 The Plantation House
The Plantation House Restaurant is renowned by visitors and local residents for its casual elegance and island style ambiance. Since opening in the Kapalua Resort in 1991, The Plantation House has earned a top reputation among Maui's best restaurants for serving innovative cuisine in a picturesque setting overlooking the fairways of the award-winning Plantation Golf Course.
"Rising Star" Chef Jojo Vasquez oversees the culinary palette incorporating his passion for local products with his artistic viewpoint to create a unique take on island-inspired cuisine.  An extensive list of premium and vintage wines is on hand to compliment the menu.
Chef Jojo's food philosophy for Plantation House Restaurant is simple – to create a delicious and satisfying meal that will entice the senses and showcase the bounty of Hawaii. He works hard to make your Maui dining experience not only memorable but leave you feeling satisfied, intrigued, inspired and elated after your meal. A true journey for all the senses.
Open Daily: Monday-Sunday
Breakfast & Lunch: 8:00am-3:00pm  •  Grill Menu: 3:00pm – 5:30pm  •  Dinner: 5:30pm – 9:00pm
Phone: 808-669-6299
2000 Plantation Club Drive, Lahaina, HI 96761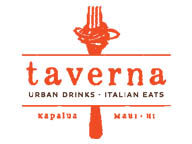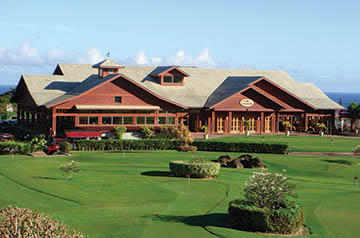 Taverna
Opened in March 2016, Taverna Italian Eatery was created to be a gathering place. A place where longtime residents, returning guests and first-time visitors could come together and relax and enjoy the beauty of Maui's mountains and sea, and feed their bodies and spirits with Italian cuisine created from fresh ingredients by an innovative and renowned Chef.
Pleasing to the eye and the palate; comfortable for the body and yes, the pocketbook; heartening to the soul. Join us for fresh house-made pastas, wood-fired pizzas, and other favorite Italian dishes in our lovely and rustic open air restaurant. Or enjoy a meal outside on the spacious patio with views extending across the greens to the ocean, and up into Mauna Kahalawai, the West Maui Mountains.
At night, flickering tiki torches lend a tropical glow to the warm darkness as you linger over a favorite beverage…maybe a refreshing craft cocktail, one of our locally brewed cold beers on tap, or a glass of Italian wine from our popular Wines by the Glass program. Our sleek, concrete-top bar offers 32 bar chairs and is the perfect place to meet a friend or watch the game.
Welcoming, delicious and comfortable any time of day—from the heart of Kapalua, we invite you to join us at Taverna.
Taverna is open daily for dinner from 5:30 pm to close.
Phone: (808) 667-CIAO (2426)
2000 Village Road in Kapalua Resort, Maui, Hawaii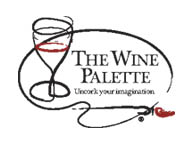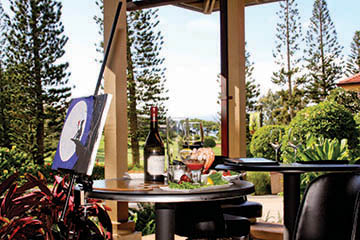 The Wine Palette
The Wine Palette is a modern and classy full-service bar with casual lanai seating and a hip lounge area.  Bring your appetite and try a few of our amazing dishes from a cheese and charcuterie platter, Panini's, house made unique dips, to steak and shrimp dishes.
For the wine lovers, we have one of Maui's finest selections.  In addition, we have a full bar with specialty Martinis and cocktails. There is something sure to please everyone in a fun and relaxed atmosphere.
Try your hand at one of our assorted games, doodle on our unique chalkboard counter, or paint.  That's right….you can  paint. No instruction, but no worries – Maui is full of amazing inspiration.  Choose a canvas, wine glass or wine bottle to paint and our staff will bring everything right to your table.  Whether you're an avid artist or never touched a brush, the experience is sure to create a lasting memory.  Sit back, relax and be inspired to create your very own work of art!
Happy Hour: 3-5pm daily
Phone: (808) 214-5296
700 Office Road, Lahaina HI 96761